Skip to Content
Xeriscape Landscaping in Denver, CO
Beautify Your Home With Xeriscaping Landscaping
Xeriscape landscaping focuses on incorporating low-water use plants into your landscaping as an environmentally friendly method of beautifying your home and yard. You won't need to commit to astronomical water bills, and the plants used in xeriscape landscape design are typically very low-maintenance. Colorado Sprinkler Service offers comprehensive landscaping services to homes and businesses in the community. Whether you need a landscaping upgrade or redesign or are starting from scratch, we will work with you every step of the way to design a stunning oasis that will add value and beauty to your home. Call us today to schedule a consultation for xeriscape landscaping in Denver, CO.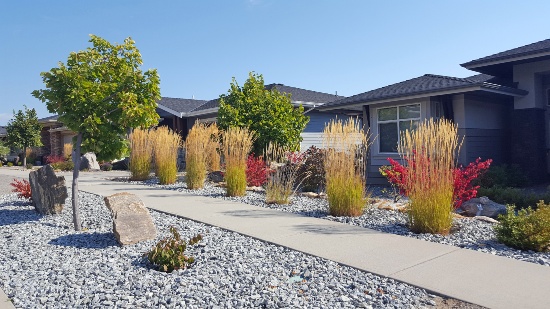 What Is Xeriscape Landscaping?
If you resigned yourself to the fact that you can't possibly have a beautiful garden or gorgeous landscaping surrounding your home or business because you don't want to waste water or pay huge water bills, you should consider xeriscape landscape design. Xeriscaping uses native plants that don't require as much water as traditional landscaping plants do. This means you won't need to rely on heavy or frequent watering, and you can lower your water bills while still enjoying a beautiful landscape.
Key Principles of Xeriscape Landscape Design
There are seven key principles of xeriscape landscape design. Our team of landscaping professionals will outline these principles for you and explain how each will be used in your overall residential or commercial landscape design:
Water-conscious design – We develop a detailed plan for creating, transforming, or upgrading your landscape design. The focus of our plan will be water-wise landscaping, meaning that every element of the design and execution will aim to reduce your water usage and take advantage of natural watering tools like rainwater harvesting and greywater usage. We will evaluate the needs of existing plants, the location of existing structures and water sources, and create a planting plan for new plants. We'll then give you some recommendations and xeriscape landscaping ideas that will work well with your property. We will choose native or low-water use plants, including flowers, shrubs, cacti, succulents, grasses, and groundcovers.
Erosion and soil control – We may need to improve your soil, depending on whether it is sand or clay. Clay takes a very long time to absorb and release water, and sand doesn't hold much water. The native plants we choose may not need soil upgrades, but non-native plants likely will. We will use organic material to create the ideal soil mixture for each plant in your landscape design. We will also create an erosion control plan to limit damage to your landscaping during heavy rains, snow, and high winds.
Zoning – Creating zones for planting will group like plants together to share resources and improve their chances of survival. We will assess the light, wind, and moisture levels in different areas of your yard or property. We can then add plants to each area that have similar requirements.
Smart irrigation – We will design an efficient, smart irrigation system that uses the most efficient schedule and method for watering plants in each zone. This will save you time and money and ensure your landscaping looks beautiful year-round.
Organic and inorganic mulching – Mulch protects plant roots from moisture loss, UV rays, and snow. It also prevents weeds. We will use organic mulch around trees, shrubs, and other plants. Inorganic mulches, like landscaping rocks and gravel, will add visual interest, prevent weeds, reduce the need for turf or grass, and further prevent soil erosion.
Grass alternatives – We will recommend alternatives to grass and turf to reduce your water usage further and save you money on your water bills. We recommend hardy, low-water use native grasses like Indian Rice Grass, Side-Oats Grama, Blue Grama, Little Bluestem, and Buffalo Grass.
Ongoing care and maintenance – Without ongoing care and maintenance, your plants will die, and your property will look bad. The purpose of xeriscape landscaping is to utilize a more eco-friendly landscaping method, and killing plants will not achieve your goal. Our team will walk you through watering and irrigation needs, pruning and trimming, and weeding your landscaping to preserve its beauty and lifespan. We also offer professional landscape maintenance services and can schedule recurring or as-needed visits.
Why Choose Colorado Sprinkler Service
At Colorado Sprinkler Service, we have over 25 years of experience providing quality home improvement services to homes and businesses in the Denver area. Our team works hard to produce consistent, quality results for every customer. Our goal is to be more than a sprinkler company and provide solutions that beautify local homes and businesses while increasing their value. In addition to landscaping services and sprinkler installation and repair, we also offer hardscaping services, landscape lighting and holiday lighting design and installation, sprinkler winterization and winter watering services, snow removal, custom firepits, and pond design and installation.
Schedule a Consultation for Landscape or Xeriscape Services
Are you ready to transform your yard or property into a low-water-use oasis? Call us today or contact us online to schedule a consultation for xeriscape landscape design in Denver, CO. We'll send our team of experts to your home or business to assess the space, discuss your goals and budget, and provide an estimate.
For a Free, No-Obligation Quote, Contact Us Today