Skip to Content
Patio Pavers in Denver, CO
Patio Paver Design & Installation
Have you been looking at patio pavers and dreaming about how they would look in your outdoor living space? At Colorado Sprinkler Service, we have great patio paver ideas and can help you pick out the perfect patio pavers and paver stones for your home. We also offer reliable, affordable professional patio paver installation in Denver, CO, so you can enjoy a beautiful, expertly designed outdoor patio for your garden and entertaining. At Colorado Sprinkler Service, we love working closely with members of our community to bring their dreams of outdoor living to life, and we are happy to walk our clients through the process of paver installation. If you're interested in learning more about patio paver design and installation in Denver, CO, just call us or contact us online.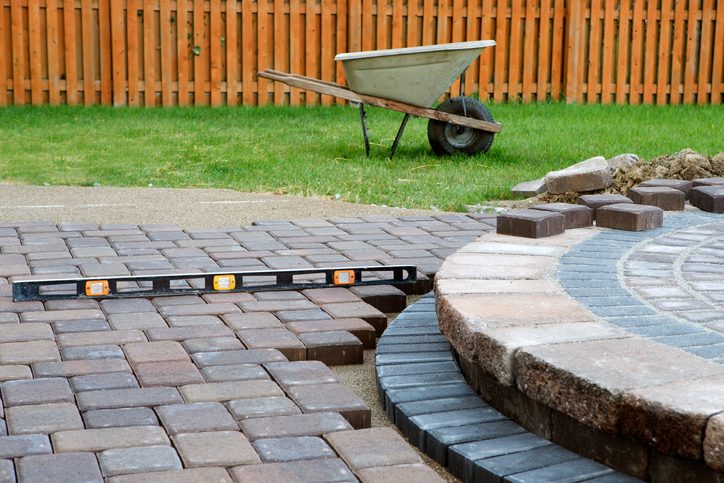 Why Choose Patio Pavers?
Installing patio pavers allows you to create a chic, durable, and affordable outdoor living space for dining, entertaining, and relaxing. When investigating your patio paver ideas, you'll find that a paver installation is a very flexible, aesthetically pleasing option for creating walkways, paths, and entertainment space in your yard while remaining functional and beautiful. The benefits of using paver stones for your outdoor living space include:
Durable
Affordable
Easy to maintain and clean
Quickly and inexpensively replaceable if broken
Variety of patio paver patterns and designs are available
Creates a functional outdoor living space while still looking beautiful
Patio paver designs and styles for every aesthetic
Range of patio pavers for every budget
Types of Patio Pavers
If you don't see a certain type of paver stone in our inventory, or you have a unique patio paver idea, we're happy to work with you to see if it's something we can special order for you. Our most popular patio pavers are:
Natural stone patio pavers
Natural stone patio pavers include travertine, granite, limestone, porcelain, cobblestone, bluestone, marble, flagstone, and more. Natural stone is beautiful and durable, and once sealed, is easy to clean and maintain. Natural stone may be more expensive than other patio pavers.
Brick patio pavers
Brick or clay patio pavers are durable, eco-friendly, and affordable. They come in a wide variety of shapes, sizes, and colors to match your aesthetic, and can be sealed to prevent fading.
Concrete patio pavers
Concrete patio pavers are made of molded concrete mixed with aggregate. They are available in a variety of colors, shapes, and sizes, and can be dyed to look like brick, or painted. Once sealed, they are very durable and easy to maintain.
Rubber patio pavers
Rubber patio pavers are durable and eco-friendly, and are typically made from recycled rubber. They come in a variety of colors, and can be imprinted with patterns to make them look like brick, wood, or natural stone. They are virtually maintenance free and can withstand fluctuations in temperature. They are also noise- and impact-absorbent and can be non-slip.
Plastic patio pavers
Plastic pavers are a low-cost option that work best in yards that require a lot of drainage. Some plastic patio paver patterns look like pebbles, cobblestone, wood, or brick.
Patio Paver Installation & Consultation Services
Colorado Sprinkler Service offers the peace of mind that comes from knowing that the job will be done correctly the first time. Professional paver installation in Denver, CO offers these benefits:
Stay on budget
Work is done efficiently and safely
Work is guaranteed or insured
Ensure proper patio design
Maintain safety of patios and walkways
Professionals have access to heavy-duty tools and equipment to get the job done quickly
Improve the resale value of the home
More comfortable outdoor living space
The Best Walkway Options for Denver Homes
Natural stone patio pavers – If you have the budget for natural stone, you should use it. Natural stone ages beautifully, is durable, and is very low maintenance, even in harsh temperatures.
Gravel or pebbles – Gravel or pebble walkways are best as a budget-friendly option, but they can be difficult for anyone with mobility issues. They also erode quickly in inclement weather and require more maintenance.
Brick – Brick walkways are timeless, durable, aesthetically pleasing, and low-maintenance. They are also very budget-friendly.
Grass and Pavers – A unique walkway option is combining grass and pavers, so that the grass peeks through the patio paver design, making the walkway look more rustic and natural.
The Benefits of a Brick Walkway
Many of our clients choose brick walkways, as brick patio pavers are affordable, durable, and versatile. Here are the benefits of installing a brick walkway:
Slip-resistant
Durable
Affordable
Variety of colors, shapes, and textures
Low-maintenance
Safe
Weather tolerant
Easy to install
Eco-friendly
Easy to clean
Improve the resale value of your home
Why Choose Us?
At Colorado Sprinkler Service, we have been proving outdoor living solutions to the Denver, CO area for more than 20 years. We started out as a small sprinkler service, offering quality, affordable sprinkler installation, repair, and maintenance to the Denver metro area. We have since expanded our knowledge, ideas, and services to include comprehensive outdoor living services, such as landscape and holiday lighting, patio paver installation, retaining wall design and build, snow removal, sprinkler winterization, and winter watering. We are committed to providing the highest level of customer service to each and every one of our customers, and we are always striving to learn more and do more for our community. If you're interested in how we can help you create a beautiful outdoor living space for your home or business in Denver, contact us today for a free estimate!
Contact Colorado Sprinkler Service for Paver Installation
Contact us at Colorado Sprinkler Service today if you're ready to transform your outdoor living space. We can assist you with patio paver ideas and provide professional patio paver installation in Denver, CO and surrounding areas. To learn more about our experience and services, call us today or contact us online.