Skip to Content
Landscape Lighting in Denver, CO
Colorado Sprinkler Service's Landscape Lighting
Improve your property value, curb appeal, and home security with high-quality LED landscape lighting. Our team at Colorado Sprinkler Service offers landscape lighting packages in Denver, CO to fit all budgets and desires. Our landscape lighting packages include a 5-year parts and a labor warranty. We service and install brands like Kitchler, Hunter, FX, and Unique. From path lights and spotlights to floodlights and underwater lights, we offer it all. Our design team can help find the perfect landscape lighting for your needs.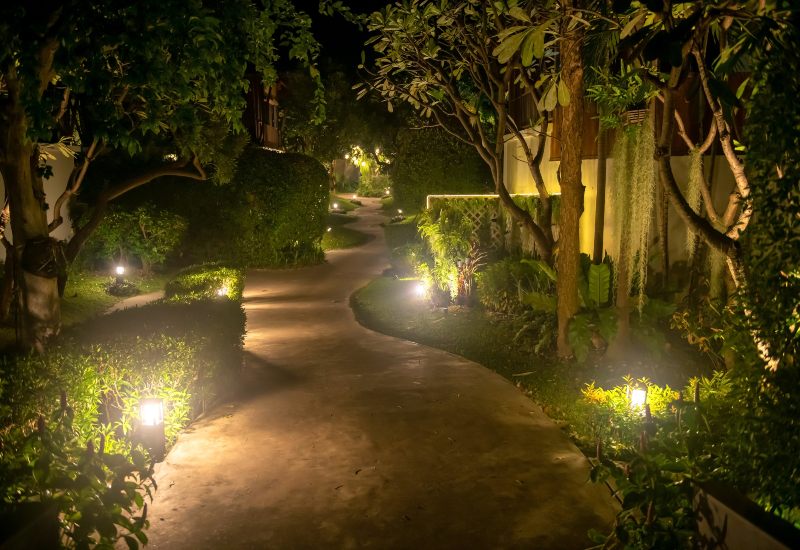 Benefits of Landscape Lighting
Landscape lighting offers many benefits for your home and yard, including:
Boosts Property Value – Bring your yard to life with the beauty of lighting while increasing the property value and curb appeal.
Expands Living Space – Enjoy more time outside with warm and welcoming lighting.
Increases Security – Additional lighting helps deter intruders from your yard.
Ease Of Use – You can control your lighting through mobile apps easily and quickly.
Types of Landscape Lighting
Our lighting experts will help you find the type of outdoor lighting that best fits the needs of your home. We'll install the lighting and maintain your landscaping during the process. Our most common types of landscape lighting include:
Floodlights
Path lights
Garden Lights
Wall Lights
Spotlights
Underwater lights
Downlights
Making The Most of Landscape Lighting
One of the best things you can do to make the most of your outdoor lighting is to integrate the effects to look natural and blend in with your home. We suggest using a combination of lighting, including path lighting, floodlighting, and up lighting as an aesthetically pleasing and functional way to bring it all together. Your landscaping should effortlessly blend in with the style of your home and yard.
Our Landscape Lighting Process
We have a passion for landscape lighting and preserving the beauty of your yard. We can install lighting in ponds, walkways, the ground, and on most surfaces. Our professional-grade products last for years, ensuring your landscape lighting won't fail. Once we design and install your landscape lighting, we'll help you learn the system. We'll show you the lights, wiring, transformer, and connections. We'll help you with general maintenance tips and operations.
System Maintenance and Repair
We offer different service plans that include system maintenance and repair for your landscape lighting. We offer check-ups and seasonal programming for your lighting, adjustments, and repairs. Our Silver Plan, Gold Plan, and Platinum Plan provide additional services or repair discounts for all services, not just repairs.
Why Choose Colorado Sprinkler Service?
For over 25 years, we've taken care of Denver's landscaping needs. From sprinkler installation to retaining walls, we ensure your yard is protected and beautiful throughout the year. We'll help you find the best landscape lighting ideas to brighten up your entire property. We take pride in designing and installing the highest quality landscaping lighting systems.
Contact Colorado Sprinkler Service
As a locally owned and operated business, we take pride in each project. We love to help residents and company owners boost the look and feel of their property. Landscape lighting is a way to brighten up the area and shine a light on your amazing lawn. Contact us today to get a free quote!
For a Free, No-Obligation Quote, Contact Us Today