Skip to Content
Colorado Sprinkler Service Custom Fire Pits
Fire Pit Design & Installation in Denver, CO
Is your backyard missing that one element that would make it cozier, more relaxing, and better for entertaining? At Colorado Sprinkler Service, we can install a custom fire pit at your home. Building a fire pit in your backyard or patio will make it much more comfortable as fall and winter approach! A custom fire pit also revolutionizes outdoor entertaining. Just call us today or contact us online to find out how to get started on your custom fire pit design.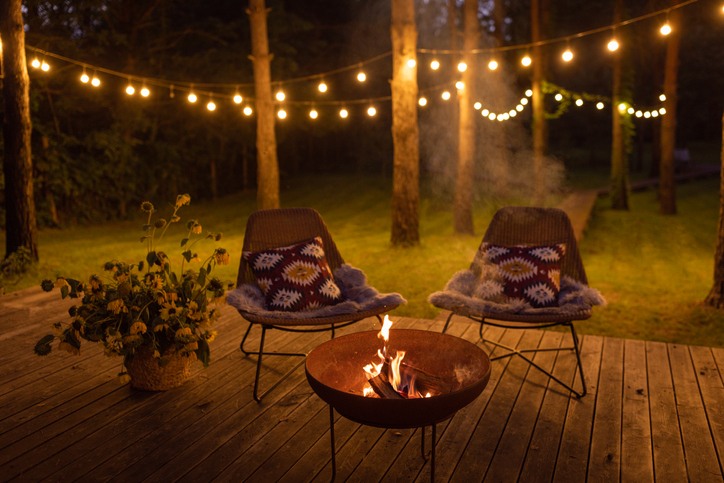 Custom Fire Pits to Suit Your Colorado Lifestyle
At Colorado Sprinkler Service, we know our Denver community in and out. We have been providing landscaping, sprinkler services, and outdoor living solutions to the Denver metro area for more than 20 years. Our custom fire pits are uniquely designed and suited for the Colorado weather and landscape and are guaranteed to become a focal point for your outdoor living and entertaining. Contact us now to find out how a custom-built fire pit can complement your Colorado lifestyle!
Distinctive Fire Pits with Top-Quality Building Materials
One of the quickest, easiest ways to improve your outdoor living landscape is by installing a custom-built backyard fire pit. Our professionals will work closely with you to choose top-quality building materials that ensure your backyard fire pit lasts a lifetime.
Things to Consider Before Hiring Fireplace Contractors
You should always hire a professional to build and install a custom fire pit. A professional can install a custom backyard fire pit that is safe, up to code, and durable so that you, your family, and your guests will remain safe and healthy. Here are some things to consider:
Your budget
Your outdoor living space
The custom fire pit design that best suits your aesthetic
Custom metal fire pits vs. custom fire pit rings
Local ordinances and rules for your area
The license, insurance, guarantees, and warranties we offer
Your maintenance threshold
Gas vs. propane vs. wood-burning fire pits
Why Your Home Needs a Custom Fire Pit
A custom fire pit will transform your outdoor living space into one that is beautiful, ambient, serene, cozy, warm, and romantic. Sitting by a custom fire pit can be a calming, meditative experience, and you and your family are sure to enjoy your outdoor living space more if you install a custom fire pit. Here are the main benefits our clients have received from building a fire pit:
Warmth, ambiance, and lighting
A focal point for entertaining in your outdoor living space
Increase in home resale value
Cooking and entertaining potential
Adds style and creativity to outdoor living space
Other Services We Provide in Denver, CO
In addition to designing, building, and installing backyard fire pits, we also offer these other comprehensive outdoor solutions to our community:
Contact Colorado Sprinkler Service for Fire Pit Design
Are you ready to get started on your custom fire pit design in Denver? Contact us now and we'll set up an initial consultation where we'll evaluate your outdoor living space and work closely with you to design and build the perfect custom backyard fire pit. Call us today for a free consultation, or fill out our online estimate request form.
For a Free, No-Obligation Quote, Contact Us Today