Skip to Content
Christmas Light Installation in Denver, CO
Get Ready for the Holiday With Christmas Light Installers
'Tis the season for beautiful, twinkling Christmas light displays up and down the street. But what if you don't have the time, patience, or skill to hang your Christmas lights? At Colorado Sprinkler Service, we offer professional Christmas light installation to homes and businesses in our community. Our team understands that the Christmas season is busy enough without adding extra tasks to your to-do list. We take care of every step of the Christmas light installation process so you and your family can enjoy a beautifully lit home for the holidays. To learn more or request an estimate for Christmas light installation in Denver, CO, call us today.
Benefits of Hiring Professionals to Install Christmas Lights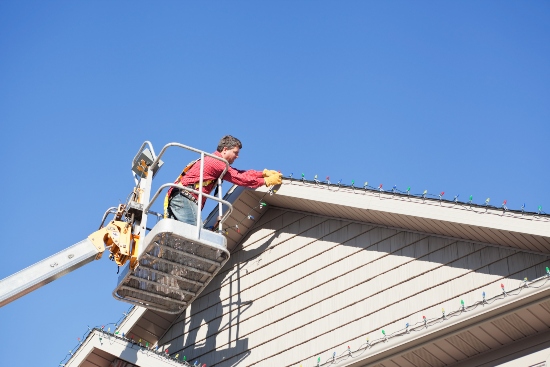 While some consider hanging Christmas lights a favorite holiday tradition, others consider it a hassle. And some no longer can go up and down a ladder a hundred times carrying heavy lights. Hiring our professionals as your Christmas light installers will save you time so that you can participate in holiday traditions you enjoy. Other benefits of hiring us for professional Christmas light installation include:
Avoid accidents or injury.
Buying decorating supplies, hardware, or a ladder is unnecessary.
Maintain the beauty of your property.
Get expert results that will be the envy of your neighborhood.
Enjoy more complex lighting installations and designs.
High-quality LED lighting installations save you money on your energy bill.
Commercial Christmas Lighting Installation
Even a simple Christmas light installation at your business will make it seem more warm and inviting to customers. Holiday lights can also raise employee morale during the stress of the season. Our experienced professionals have extensive experience installing lights on buildings of all sizes. They can work closely with you to create a holiday lighting design that works for your company's purpose and branding. Our neat, professional displays are designed to look amazing throughout the season, and when the season is over, our team will come and remove all lighting and decorations and pack them up for you. We'll ensure all lights are labeled and mapped for use next year.
Residential Christmas Light Install
Installing Christmas lights can bring your family and your entire neighborhood joy and create lasting memories. We will handle everything, even if you don't have time to plan an elaborate holiday lighting display. When we're done, your home will be beautifully lit and decorated with high-quality, durable lights that will last the entire season. Our team will completely plan your holiday lighting design, install it professionally, and remove everything when the season ends, leaving you no mess or fuss. We will also give you fully labeled and mapped light strands to use again next year.
Why Choose Colorado Sprinkler Service
At Colorado Sprinkler Service, we are a locally owned and operated business with over 25 years in the industry. We offer more than just sprinkler installation and repair. Our goal is to beautify the homes and businesses in our community by providing high-quality home improvement services at an affordable price. Our team is committed to providing amazing customer service and exceptional workmanship on every job. We offer a one-year warranty on all repairs and a five-year warranty on all new sprinkler systems. In addition to our sprinkler services, we offer landscaping services, landscape lighting and Christmas light installations, hardscaping services, sprinkler winterization and winter watering services, snow removal, and pond design and installation.
Request an Estimate from Our Christmas Lights Installer
It's never too early or late to start planning your holiday lighting design. Call us today or contact us online to request an estimate for professional Christmas light installation in Denver, CO. Our experienced professionals can create a stunning, unique lighting design that will bring joy to everyone who sees it.
For a Free, No-Obligation Quote, Contact Us Today